Financial Need
Allahumdulilliah, Phase One of the construction project completed in May 2015 and Phase Two in November 2016. we are now moving on Phase Two. In order the complete the construction, some of our Brothers and Sisters has supported with interest-free loan in recent years.  
In order to payback the interest-free loan and to continue working on remaining two phase of the project, we are currently in need of funding. It is therefore, we humbly request our brothers and sisters in Islam to contribute generously toward this project. Donations can be sent to "Burmese Muslim Education and Community Center" or "BMECC" P.O. Box 5665, Fort Wayne, IN - 46895 – 5665,by snail mail, as well as wire transfer via Banking Institutes, PayPal, Western Union, MoneyGram etc. Please enclose the following pledge form with your donation when you mail it to us.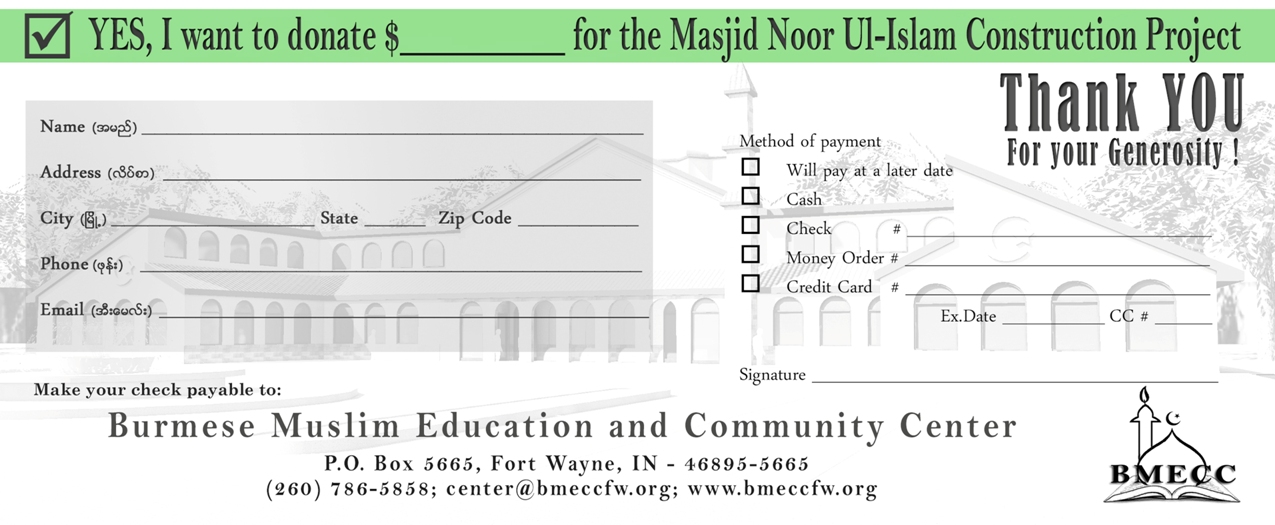 Donations are also accepted via PayPal on this website. The fundraising personnel and Board members can also be reached at 260-786-5858.  
This project is aiming to enhance the long lasting Burmese Muslim community in Fort Wayne and the Muslim community at large. The Burmese Muslim Education and Community Center and the community members greatly appreciate for your physical, financial and intellectual contribution to this project and make Dur'a for you and your families; May Allah reward you and your families with blessing from Allah (s.w.t).